Operating system (os) preparation and beginning steps
An operating system is the main software component of a computer it controls all the hardware and makes everything work; there are various operating systems available each with different usages and software. The most common is Windows mainly due to their wide usage and most new computers will come with Windows pre installed. I have written a post here about Linux operating systems and I would recommend giving it a read and at least trying a Linux operating system.
I am going to take you through the steps required to start the installation process/wizards for installing an operating system. All systems are different so the content below may not be 100% accurate for your system but it should be simple enough to figure out the alternative method your system uses.
Preparation
For the first step you need to get all your resources including any installation CD keys (if required), a CD/DVD with the desired operating system or another alternative method such as a bootable memory stick.
Memory stick / USB drive
To simply this process you can download some software which will allow you to select the operating systems you wish to install onto your device, this software is great as its simple to use provider's step by step instructions and allows multiple OS installers on one single device. The software you want is Universal USB Installer there is a version for most operating systems.
CD/DVD
If you have downloaded an OS image from the internet then you need to burn the ISO or IMG file onto a disk, this can be accomplished by installing and running CD/DVD burning software such as ImgBurn available here or if you're using Linux find some alternative software. Burning the image using ImgBurn is relatively easy insert a CD/DVD into the drive and click Write image file to disk browse to the image location and burning will begin; it may popup with some messages about making it a bootable disk click Yes or Use Recommended settings.
Booting
Now it's time to begin the installation process first insert the CD/DVD into the drive and restart your computer the computer should now boot from the CD/DVD and begin the loading process, if you are trying to install a Windows operating system a message will appear asking you to Press any button to boot from CD you need to do exactly what it says or it will just skip booting from the CD and boot straight from the hard drive (boots to the currently installed operating system). If it fails to boot from the CD/DVD and boots straight from the hard drive we need to manually tell the computer which device to boot from this is achieved on most systems by pressing F12 during the boot up stage, as soon as the computer first starts immediately start pressing the button and you should be presented with a menu like below.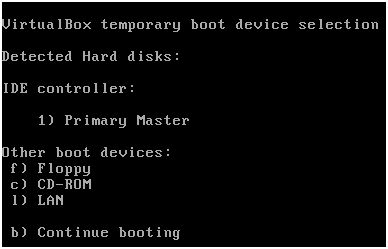 The screen you receive may differ slightly or completely but all you need to do is find the drive you want to boot from which in my case is CD-ROM so I press the "c" key. The bootable media should now beginning loading and now you ready to start installing your new operating system.